We woke up to a high enough overcast that the mountains were clear and beautiful, standing up all around us like we were in some gigantic mouth. We stopped in at my brother Gary's place in Enderby at noon and caught up with him and his wife Joan over sandwiches at a great (and obviously popular) eatery called Hungry Jack's on Cliff Avenue.
Then we carried on to Vernon, to reconnect with our friends Richard and Shaleah, and our puppy Barkley! They have been looking after him since June, which has been a huge help to us and it seems they have enjoyed him too. He went nuts when he saw us and would not stop jumping straight into the air until he got it into his mind that I could toss a ball for him to chase, which he did with as much energy as ever. He has certainly settled down in these past few months and is more obedient than ever. That's what happens in a family of dog trainers.
It was also very cool to watch how Richard & Shaleah's three kids are adjusting so well to life in Canada after eight years in Tanzania. Several families came over that evening for supper and Bible study, all with young kids, which is great because it is often hard for young families to manage getting together this way. This led to a good discussion the next morning about families and parenting and adoption. They adopted their little girl in Tanzania when she was just three months old, and she has fit in so well. But one day she will likely have to process the kind of emotions I have seen in other adopted young women in the past few years.
I realized as we carried on down the road to Kelowna that these girls not only feel abandoned by their birth family, which was just an action once done to them for whatever reason. They also feel "abandonable," which relates to who they are: they feel like people who can be discarded. These may or may not be reasonable feelings or emotions in keeping with the circumstances of their adoption. But the feelings are real nonetheless.
In Kelowna, we went to visit my mom, who soon after my dad's passing in February went into a full care facility. She was angry about it back then, so I was amazed at how calm and content she is in her situation now. She is lonely though, and because memory loss keeps her from knowing how frequently she has visitors or how long we have visited with her, goodbyes are always tough - she never wants us to leave. So we talked and played Scrabble (she beat me the first game, pulling out a 46-point word right at the end) and Skippo (I won, which rarely happens). Then she reluctantly saw us out the door until the next day.
We were glad to be staying once again with Kristie, in her beautiful home overlooking Okanagan Lake, and to see her so much more full of energy and looking like herself again. More of the grace of God! I took a late-night walk down to the Lake, and the stars were beautiful and bright. It felt so good to get air in my lungs - too many days of driving and coffee shops and no exercise.
We had a nice lazy start to the day, took my mom out for lunch at Tim's and then more games of Scrabble. Sorry, I won, though mom had a stretch of 120 points in four turns. But no matter how long we stay, it is never enough for mom, who by necessity lives in the moment. She prefers moments with us over moments alone, and we can't blame her. But it does lift her spirits to have us with her, even if she can't remember afterward why she feels happy.
That evening, Marissa came over - who just moved to Kelowna to take a hairdressing course - and I made a beef stir-fry for us all, which went well with Marissa's great salad and other additions by Kristie and Sarah. So good to see Marissa after a full year. Later we went to see a condo that Marissa might share. "Very tempting," she said, and no doubt since it was brand new, gorgeous and the patio door opens to Woods Lake! We sat there a long time (a friend of Kristie's gave her the key) and talked and didn't want to leave.
The next morning we met Doris - who also just moved to Kelowna, "like all the cool people," as Marissa put it - and had brunch at the Jammery, a popular spot overlooking Duck Lake. Doris amazed us with how quickly God has established her here and opened ministry opportunities with the young adults at Trinity Baptist, my home church.
We took my mom for a drive that afternoon and she enjoyed the sunshine and orchards bursting with apples and the views of the Lake. It's fun because she enjoys the same views multiple times and usually makes the same comments each time! Finished the day at Kristie's with leftovers, the movie Miss Potter (better than it sounds) and a walk with Kristie under a nearly full Moon and with the lights on the water.
After saying farewell to Kristie, we went to the 9:00 am service at Trinity with my mom. We were very glad to see that our friend Storm was leading worship, and it was beautiful. On a Sunday back in February, he came to Trinity to lead worship and be checked out by the church, and it was my dad's last Sunday there before he passed away, and he told me how much he liked Storm and hoped he would get the position of worship leader there. It was good to chat with him and catch up a bit.
We found ourselves in the um... unfortunate?? predicament of being invited to two Thanksgiving dinners on the same day. So we went early to my Mom's sister's place (at 92 she is still hosting the family gathering) and could smell the turkey but couldn't eat it, then confused my mom by leaving early and drove four hours to Chilliwack to have turkey with Sarah's sister and family! Confused? My brain and stomach felt the same, but really it is a blessing to have so much family tugging us about.
Ben and Danny joined us there too, so it was a happy gathering. Danny has been away at a digital film school in Hawaii these past six months and arrived back a couple weeks before. Ben picked him up in Bellingham and they and Amber (K1) drove together down the Oregon coast to California and saw Amanda (K3-5 leader). So it was great to be back together after so many adventures.
We spent a couple relaxing, rainy days there and then continued west to Langley, where Mikayla (K3) and family hosted a gathering of Kaleo students from around the lower mainland.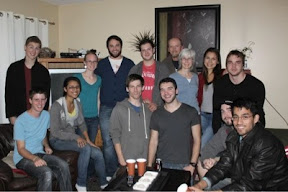 Lisa (K1 leader); Mark, Matthew, Mikayla, Kirk (K3); Andrew, Sheri, Joel (K5); Bob (K7 - check out his "hair"); Holly, Steve and Bryan (K8) all came together, not all knowing one another but knowing us. So good to see them all, and so little time to talk with each one. As one student said to us on this trip, it's like they are sending Sarah and I off to the next adventure with their blessing. We are truly feeling that, but are still wondering what that next adventure will be.
Well, the end of the journey. We boarded a good old-fashioned BC ferry, all too familiar to us, and rolled into Victoria, 10,000 kilometers older, perhaps a little wiser and definitely blessed. We spent our last night in the camper at Goldstream Park among the giant trees of the west coast, ready to turn the page to the next chapter. We thank you for journeying with us, and appreciate your continuing prayers and affirmation.