We haven't been to see the dinosaurs since Ben was very little. The Royal Tyrrell Dinosaur Museum in Drumheller is quite amazing, if you can forgive Darwin and zillions of years, and simply be in awe of creatures God once created. It was especially nice that admission was free due to an Alberta Arts thing.
This was our favorite room: set like a gallery with dark walls, well-lit displays, gilt frames around them, classical music, leather chairs and an enormous T-Rex dominating centre stage. We sat here a long time, soaking it in, enjoying the coolness (it was a scorching 31C outside) and breathing. We had lunch under an umbrella outside and then I went for a walk in the badlands, eye out for the next colossal Dino find, but content to get some exercise. Hey, longboarders, there is a brand new paved trail winding down through the badlands. You should check it out, Selena! It crosses the road a bit before the museum.
On the drive to Calgary, we glimpsed the most amazing thing: Mountains! So good to see them again, and a reminder that we are nearing the end of this journey. We arrived and found Laura, who married Ty W (K1&2) a couple years ago and had just arrived home from work. Ty arrived as we were getting to know Laura better, and we went out for burgers at a local grill.
We enjoyed a lazy start the next day. All slept in, except Ty who had a morning event at the boys and girls club. When he got home we took a picnic to Prince's Island Park and tweaked out enough sunshine to make it very pleasant, even at the end of September.
That evening, Phil B (K2) and his wife Nicole came down for dinner - so good to see Phil (who was also a K3 intern) after so many years and to meet the girl who married him in spite of the time he nearly dropped a boulder on her while they were climbing together. We all talked and caught up, late into the evening.
After going to Ty & Nicole's church in the morning, and giving them a fond farewell, we located the Starbucks where we expected to meet a couple of students, and found four! Jahnaya (K5) arrived first, then Kendall (K3) and then Dan & Katie (K5), who we thought we had missed!
Jahnaya, Kendall and Katie are all studying at Ambrose, and both Kendall and Katie & Dan got married this summer! Time flew as we heard their stories and plans and dreams and ministries. All too soon it was time for hugs and prayers, and the road west to Banff, where Michelle (K1) was to meet us at her church.
We were afraid that the weather would be too unsettled for us to see the mountains, but as the sun poked through the clouds it set them in sharp contrast. We arrived at Banff Park Church, where the believers were wrapping up a day of fasting and prayer with worship and more prayer. Michelle and her husband Michael have been married five years and both work (as many Banff citizens do) in the hospitality industry, he as a chef and she at the front desk of the fabulous Banff Springs Hotel. God has blessed them recently with a baby girl named Avery, who is now two months old. Man, I want to be a grandpa! Go find a wife, guys! We went to their condo and made a start at catching up, with Michelle dropping hints of a marvelous day on the morrow. We stayed in the camper on the street, which was okay to do, but the night life of the mini-city of Banff convinced us that we should go find a campground for the next night.
A marvelous day needs to start lazy, and this one did. While the rest got their day started, I went for a walk and found myself crossing the Bow River bridge and along the river to Bow Falls, with the Banff Springs "Castle" towering above. Michelle barbecued steaks for lunch, which was another good start, and told us that she had arranged complimentary tickets through Aussie Matt, who served at Qwanoes back in 2003, and that we were going on a boat tour and gondola ride! We wanted to take Michelle out for dinner later (Michael was working), and Michelle suggested choosing one of the 11 eating establishments at Banff Springs to finish the day, which would give her the opportunity to show us around. Since she gets meals at half price, it was an easy sell.
The boat tour was on Lake Minnewanka under blue skies and no wind. The reflections, especially the fall colors, were perfect. Little Avery seemed mostly content swaddled up with mom, though by the end of the day she began to tell us that she was having too much fun. We couldn't get enough of mountains - it was like we had run dry of them in our travels and needed to soak up every drop.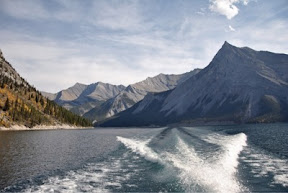 From there, after a quick feeding stop, we picked up Matt and went to the famous Sulphur Mountain Gondola, where he works as a manager. Michelle can hardly believe that I remember going to the hot springs right in town as a child, as the closing of those springs to save an endangered snail seems like ancient history to her, but I do. I guess I am ancient as well! The gondola reminded me of a memorable story from my youth pastoring days, but no lightning storm and power outage beset us, so it was all good. Fantastic views and good conversation with Matt as we hiked to the lookout at the top.
Whew! Another feeding break for Avery and then to the Banff Springs Hotel. I didn't get a photo, so here's one from the web, and it didn't look like this when we were there but I bet it will in a few weeks. I just like this picture.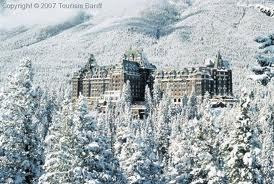 Michelle showed us places we would never have seen on our own, like the view from a bridge built between two towers so high-end guests would no longer have to go up three fights of stairs, or the place in the hallway where the room numbers skip one, and where there was clearly (as she pointed out) once the door to a room, now boarded up because of a ghastly murder (well, that's what visitors think, but is was just a renovation to make a larger room), and the huge ballrooms where the minimum food and beverage bill is $20-30,000. We decided on the Rundle Lounge, featuring relaxing sofas and small tables and pub fare. The food was great, but I mostly enjoyed lulling Avery to sleep. Wonderful day, and we felt very pampered. Thank you, Michelle and Matt!
We said our hard farewells that evening, and found a site in the dark in the national campground. Upon waking we found ourselves still surrounded by mountains on every side, despite the promise of rain developing. In fact, the clouds rolled back regularly all day, until we reached our well-researched campground in Glacier National Park and found it closed. A parks staff guy happened to pull up in his truck, and he was surprised too, as the website said it would be open until Thanksgiving. He told us of another one a few kilometers down that we could stay at overnight. When we got there, a tiny sign said it was closed too, but we are going with the parks guy's word and here we are, smack in the middle of the park and mountains towering all around. If you are a National Parks official reading this tonight, please don't come here and kick us out. We are tired and going to bed! Good night!