Day Ten
After an astounding breakfast that would last us all day, Katie took us to the Bay of Fundy, famous for its big tides. Our first stop was for almost-as-famous cinnamon buns at the little town of Alma, followed by a walk on the beach and rocks, mostly to catch up on the life of Katie, who we haven't seen since the end of Kaleo Seven.
On the way back we ventured up and down some very steep roads to places named Cape Enrage and Hopewell Hill. This is lobster country, though somehow we missed eating any. Everyone has lobster for sale, even Mickey D's: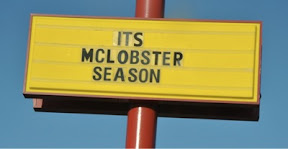 Saying a fond farewell to Katie, we literally set off into the sunset in search of the town of Minto and our good buddy and student, Robbie. It was a little further, and further, and further into the bush than we thought, and we expected to make mooseburgers any moment, though we didn't see any, in spite of the many signposts that promised we would, so slow down. At the end of it all, up a dark driveway, was Rob.
Rob works nights at the Atlantic Superstore (same as the "Canadian" version), plus ten hours a week at his church. So he was pretty sleepy when we arrived. We all decided to crash and catch up the next day.
Day Eleven
Trouble was, the next day we were all sleepy, Rob from work and us from too much fun. So we went out to Robbie's family cabin on Great Lake, which his grandma picked up for a song back in the fifties. Thanks, Rob, for a lazy day, which was just what we needed! Rob and I walked down the beach and I got to hear his hopes and fears and dreams. Love that guy. Finished the day with another meal with his wonderful, interesting and funny mom and dad, and another chat at Timmy Ho's. Another full day.
Day Twelve
We got to go to Rob's church! He warned us that it might be an unusual experience, and it was different. Definitely a joyful noise to the Lord. But I appreciated the depth of these folk who at first glance may seem simple. Rob's dad, Doug, shared a "Godstory" about the time he threw a boomerang in church (during a skit) in obedience to God, and how it "missed 100 people, a dozen stained glass windows and all the light fixtures," and landed in the coat rack. I wish someone had written it down - it could have been published in the next edition of Reader's Digest. Very neatly told.
Rob is trying to get his church to buy into the idea of "house church" like The Gathering does at Briercrest. About 20 people gathered at his house for carrot soup that we made the night before, a time of prayer and let's-share-life-together conversation. I admire Rob's willingness to take home and use what he has gained these past four years in Bible college.
Should we stay or should we go? And if we go, what direction? There are so many options for getting to Quebec from Robbie's place that we were quite at a loss.
In the end we decided to take a secondary road through the bush to New Brunswick's east coast, a road no one seemed to know much about. Stopping for diesel (a good idea when bushwhacking), a fellow who laughed when I asked him if he was from these parts said he had just come down that road and it was great. "Just set yer cruise to 90 and giv'r." It turned out to be just that, and before we knew it we were at the coast. It was a little alarming to look at the map and realize that since we landed in Halifax nearly two weeks ago, we have progressed west nearly nil. It's okay - we will get to it soon.
The place where we were headed for the night was one that we could only point to on the map, since neither of us could pronounce it: Kouchibouguac National Park. Oh for a sunny day to spend there! Sarah was not up to navigating the boardwalk to the beach, but I could not help myself. How I love long sandy beaches and waves! Even though we are just across from PEI here, the beach was not red, but similar to the beaches near Tofino.
It was weird, though, to have the sun setting behind me instead of in front. The mosquitos were so bad here that we made an early night of it. On to Quebec tomorrow, though somehow I'm not looking forward to it.
Day Thirteen
We woke up to grey skies threatening rain, and a forecast for lots of it for northern NB, so we decided to hoof it for the Gaspe Peninsula and maybe miss the worst of it. We got a bit pounded before we started up into the Appalachian Mountains where it resolved into misty valleys that reminded us of BC.

We are sure it is a very scenic route, but much of it we simply couldn't see. But we enjoyed what we could, which included more massive cathedrals in every tiny town, and the river that winds between them.
We found in the mist the campground we were aiming for, Parc national du Bic. A little steep, since we had to pay an additional fee just to be in the park. So, to get my money's worth, I went for a hike to Cap a l'Original. Beautiful, even in the mist and rain, and I should have taken at least the little camera, because now I have no photos. Though it is on the St Laurence Seaway, it reminded me a lot of the west coast of Vancouver Island. You can check it out by
clicking here
. Rained all night.
Day Fourteen
Oh, lots of driving today! We alternated between boring and foggy freeway and bumpy but wonderful secondary road along the St Laurence Seaway. I admit that I was a little freaked out about the idea of navigating Quebec City in our big rig, especially since we had no idea where to go. We were praying for an Info Centre, which appeared immediately after we crossed the bridge into the city. There is an analogy there someplace. It turned out to be really easy: one road to the other Info Centre just outside the Old City, and then a $1 bus that took you well into the maze of ancient buildings that is the original Quebec.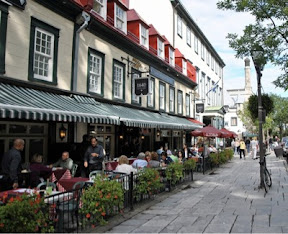 We had tea (to the consternation of our French waitress) and a wonderful maple cake at the above bistro on the sidewalk. Sarah's knees were not up to much today, but we got a good taste of the city and the people and art and music and shops. You could spend a week here quite easily, which would be the better (and expensive) way to go. Very, very unique.
Being late, we planned to stay overnight in a Wal-Mart parking lot, but upon asking we were told that it wasn't done here. Shouldn't be surprising in a place that has its own way of doing everything. So now we are in a very boring and expensive city of camp trailers, and can't wait to move on tomorrow. Quebec has been interesting, but I will be glad to cross the bridge into Ottawa in a couple days.
And now I am caught up. Good night!